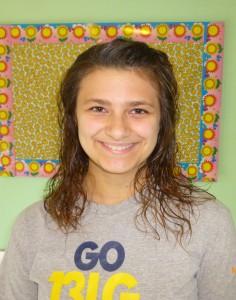 I'm Sarah Mauck, I just graduated from Saline High School. I am the oldest of four children. I started at CCLC in the beginning of January of 2013. In high school I took an early childhood education class where I got the experience to work with three different age groups of children; infants/toddlers, preschoolers, and 2nd graders. I started babysitting my siblings when I was 11. My siblings and I are all adopted and I got the chance to help my one brother, whom was from Romania, learn the English language. There have been emergencies when I was babysitting my siblings, I am always calm. I know what to do when a child or adult experiences an emergency or I can be there just to help in any way that I can.
I am going to college for two different majors. I am at Washtenaw Community for their Radiology program. Once I get on the waiting list, which is a 2 year wait, I will transfer to Eastern Michigan University for the early childhood program. I was planning for the 2 year program at Eastern so I can go back to Washtenaw to finish the Radiology. I was to go into the medical field and be with children so I'm hoping to be in a place like Motts Hospital.
Being a CCCL staff member has been an amazing journey. I enjoy the children and seeing them grow and play. I have gotten attached to each one. I really have learned so much from the parents, staff, and children. I'm looking forward for more experiences that encounter CCLC.