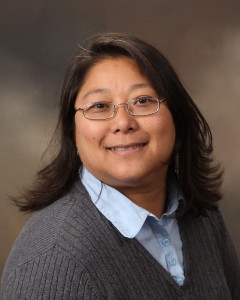 My name is Hui-Min Halliwill. I was born in Taiwan. My parents are from China. I am the oldest of three and I have one sister and one brother. My family moved to the U. S. in 1979 when I was 12 years old. I lived in Colorado and other places out west before settling in Michigan. My husband and I have been married since 1994. We have a son named Zeke and two daughters, Autumn and Alena.  My husband and I adopted our two wonderful daughters.
I like to watch comedy and action movies. I also enjoy cooking, playing golf, and reading Chinese fictional stories set in historical periods.
I started working in the child care profession in 2004 and have found it very rewarding. I've been able to apply the knowledge I acquired from raising my son and from reading books. I've also taken credits in Early Childhood Development classes and received my CDA Certificate. I am still taking credits and working towards my Associate Degree at WCC. It is a great joy to watch children reaching each milestone and seeing the confidence in their faces when they succeed. I also like to apply new things that I have learned from training. I started out working with infants, then young toddlers and now young preschoolers. I also teach Chinese Classes to the preschool, Young 5 and school age children. I have been working at this center since 2004.